What is Vedic Astrology?
Whenever we think about getting an authentic Astrology Reading, the first thing that comes to our mind is Vedic Astrology. This system of astrology is in practice in India for the past 12000 years, and is the only oldest living culture around the world.
We all know that majorly 2 types of Astrology are more famous around the globe – Western Astrology or Indian Vedic Astrology.
To be honest, Vedic Astrology is not only restricted to India now. There are many astrologers in the world who are curious about Indian Vedic Astrology, by following an indepth research of the subject and follow it professionally.
It is so much in depth that it is often not possible to describe its power and mysticism in any post, You will have to take a reading to experience it.
Read more to find out Why should you take any Vedic Astrology reading!
Get your Vedic Astrology EXPERT reading in just 4 steps:
You can now talk to an experienced Indian Astrologer by just following these 4 steps:
Open

Kasamba

.

com & create your account.
Add funds to your account. You can add as much as you like. (First 3 minutes FREE after adding funds)
Select the type of reading you want. Select a Psychic / reader.
Select "Let's Chat" option to chat or "Email" to contact the reader.
Note: You can also select CHAT option for a quick response.
Our Top 4 Vedic Astrology Websites:
August 2022
All Psychics are:

Expertly Reviewed,
Available 24/7,
Mobile Friendly
Rank
Website
Rating
Offer
Features
Visit Site
What constitute a Vedic Astrology Reading?
Vedic Astrology is the term used for all the Astrology systems prevailing in India since the Vedic Age.
Although all systems are similar, and mostly integrated readings are given using more than one technique, still for our readers let us identify them separately here:-
Parashari Astrology :
It was propagated by Sage Parashar, and is considered as the Father of Vedic Astrology. It is the base of all Vedic Astrology systems.
Jaimini Astrology :
It is propagated by Sage Jaimini, and is an off-shoot of Parashari system only with some major changes in significators, and time period or Dasha System
Bhrigu Astrology :
Sage Bhrigu is known for his infallible predictions, and his system is magical in giving predictions. Though with time, most of his teachings are lost, or confined to a very small town in India, still Bhrigu system is considered very effective and accurate.
Nadi Astrology :
Nadi are also predictive systems propagated by many sages like Narada, Agastyar, Satyacharya, Bhrigu, Etc. These are the legendary Nadi system which were written on palm leaves, and claims to contain destiny of all individuals ever taken birth on the face of Earth, and also of those who are yet to take birth. Those who have taken Nadi Predictions are just astonished how accurately it predicts everything about them.
Why Vedic Astrology is most accurate system in the world?
Vedic Astrology is a living tradition since thousands of years. Since then, it has established its roots in ancient Indian Civilization and their advanced Mathematical and Astronomical system.
You would be amazed to know that ancient Indian Astronomical readings were much ahead of their time, and even found accurate today with modern measurements. This shows their deep knowledge and research.
Secondly, this system is Sidereal System, which we all know is much more accurate than tropical system of astrology, as it accounts for motion of Earth around all dimensional axes.
That makes it a complete different world if you compare it with Western Astrology.
Why it is called Vedic Astrology?
The system of Astrology prevailing in India is known as Vedic Astrology for two reasons:
Astrology or Jyotish is considered as one of the six limbs of Vedas known as "Shadangas", which is utmost necessary to study vedas. Thus, highlight the importance of Jyotish in Vedic Time.
This system is unchanged since Vedic Period, and most of its propagators belongs to the Vedic Age. The manuscripts found were also of the same ages, hence, it is apt to call this as Vedic Astrology. 
What makes Vedic Astrology unique?
All astrological systems around the world makes use of planetary position at the time of birth of a native to cast a Natal Horoscope, and then use the present day transit of planets to make a prediction.
These astrological systems are not equipped to explain the trends of events in one's life, or connects it with one's past lives, or cannot answer spiritual journey query of a native.
Vedic Astrology on the other hand is quite exhaustive. It not only casts the Natal Chart or horoscope of a native, but also has 108 separate charts at the time of birth known as Divisional Charts to study deeply different aspects of life of a native. Therefore, it delineates different aspects of life through different charts.
Secondly, apart from natal position of planets, and present transiting position of planets, Vedic Astrology has another set of tools known as Dasha System or Major and Minor time periods in the life of native, which are governed by different planet and give results accordingly. Thus, it explains a series of events or trend in the life of a native.
It answers the long pending question of human kind, that nothing is stand alone, every event is pre-destined, and gives pre-indications of its occurrence. It also has a set of Chakras or circles or diagrams to study Transits of planets like Surya-Kalanala Chakra, Chandra-Kalanala Chakra, Kota Chakra etc.
These diagrams to study transits, completely changes the meaning of transiting planets and indicate accurately what it means for the native. All these tools when used together, works like magic to give you an accurate prediction.
Only a real EXPERT Vedic Astrologer will be able to take this outlook on your birth chart.
We have reviewed Top 4 websites with best Astrology services for you to make up your mind and get a reading now!
What are the details required to get a Vedic Astrology reading?
Vedic Astrology reading cannot be taken without giving the following details to the Astrologer.
Date of Birth : To analyze the placement/transit of planets on the day of your birth & Panchang details (Tithi or lunar date, Vaar or lunar day, Nakshatra or constellation, Karan, Yog) on the day you were born. All these Panchang details also have a major impact on us for life with planetary positions.
Time of Birth (accurate and exact. Always mention if it is in local time or standard time). Without proper time, it is difficult to fix your ascendant sign which is the base and start of any prediction. There are other important calculations also like Dasha or the major period, divisional charts etc without proper time. Any difference in time may lead to incorrect Dasha calculation which can make any reading Fail big time.
Place of Birth ( City & Country. If your country has two or more time zones, then city is necessary). Different cities and countries have different time zone. Location coordinates decide time zones which are base of Vedic Astrology Readings.
Note: Any incorrect detail may not be able to help you with a good and accurate natal reading.
Infact, some of the astrologers may refuse to give a natal Vedic astrology reading if you say that you do not have your birth time & will try following different methods of prediction if your details are not accurate.
Some astrologers may also ask you for some random numbers, maybe your picture or even imprints of your hands for making Predictions, but that is not mandatory. It can vary from Astrologer to Astrologer. Want to try Vedic Horoscope reading?
What if I have missing birth details?
You can still opt for a Vedic Astrology Reading, but this time it won't be a Natal Horoscope reading, but will be a Prashna or Horary Horoscope Reading. This is also very accurate, and is used to answer all types of miscellaneous queries of a client.
It is similar to a Natal Horoscope chart but it is question specific. You will be surprised to see its magical ways of prediction.
What if my time of Birth is not accurate?
This is again i believe a major concern for many people in the world. People generally do not have their time because at the time they were born, maybe people were not so much into astrology to record birth time or they missed it somehow or maybe it was recorded but it is not accurate or is in a range eg. between 7am to 8am etc.
That should not be a point of concern for you now if you want to go ahead with Vedic Astrology reading.
If you do not know your accurate time of birth, then you may first opt for Birth Time Rectification services by an Expert Vedic Astrologer. He may ask you a few questions which you need to answer and you will get your time rectified.
Vedic Astrology provides one of the most accurate and exhaustive methods of Birth time Rectification which are both mathematically and predictively accurate.
Get your Vedic Astrology reading by: Pandit Dakshinamoorthi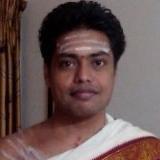 With a variety of psychics on Kasamba.com, It was indeed very difficult for us to choose a psychic that is the best because every reader is expert in their knowledge.
There is a customer satisfaction guarantee given by Kasamba.com with every psychic you choose because they know that the services they are offering are unique and incomparable.
That's not it folks. You will be more happy to hear their consultation charges.
Kasamba offers first 3 minutes FREEif you are a new customer and 50% off on your first reading. If you are an existing customer, they also have a discount for you which you need to go on Kasamba's website to check.
Pandit Dakshinamoorthi is one of Kasamba's most favourite Vedic Astrologer with 4.97 
ratings with 1800 readings so far. He is basically a Traditional as well as Modern South Indian Astrologer & has a total experience of 15 years in practice.
He will not only provide you a reading but he can also guide you with relevant Vedic remedies that can help you ease out the malefic results of the planets in your life.
You seem curious to get a reading now, click the button to connect with Pandit Dakshinamoorthi now!